3 STARS HOTELS IN PRAGUE
HOTEL U DVOU ZLATYCH KLICU ***
Prague 1, Spalena 98/31
The row apartment house "Two golden keys" is of mediaeval origin with preserved mediaeval cellars. The house was re-built in the style of Baroque around the year 1688 and after the year 1700. Around the year 1786 the second floor was added and the courtyard wing was built. The arrangements in the style of Classi-cism were performed according to the architect Josef Kaur after the year 1830. The house is classified into the group of special cultural memorials in Prague.
We offer large and calm rooms with the total capacity of 46 beds according to the occupancy in single-, double-, three-, and fourbedded rooms. Three bedded and four beddet Suites will satisfy the clients demanding more space and comfort. Check-in: 2 p.m., Check-out: 11 a.m. Breakfast is included in the price of the room and is served as buffet between 7:30 and 10:00 a.m. in the hotel breakfastroom. Hotel guests have the possibility of renting a hairdryer, an iron, or a water kettle at the reception.
Rooms
Rooms feature a separate bathroom with a shower or a bath tub and a toilette, color TV with a satellite receiver. Extra bed possible.
Suite
The newly built spacious apartments with beautiful view on the art nouveau roofs are furnished and equipped with a television set with satellite receiver. The spacious bedroom will guarantee you sufficient comfort. Separate bathroom includes a bath tub and a toilette. The cozy kitchen is equipped with a cooker and a fridge. Storage space for extra luggage is located in the entrance hallway. Extra bed possible.
HOTEL CENTRAL ***
Rybna 8, Prague 1
Hotel is situated in the city centre, close to Old Town Square in a calm street. The capacity of hotel is 70 rooms in ***category (shower/WC in room), incl. direct-dial phone, SAT TV, safe and hair-dryer. Bus and car parking-places within easy reach.
Buffet breakfast is served from 07.00 a.m. to 10.00 a.m.
Lobby Bar is open daily from 15.00 p.m. to 03.00 a.m.
Restaurant can be used for various events and is open only on request. The capacity is 70 persons.
HOTEL MERKUR ***
Tesnov 9, Prague 1
Hotel is situated in the city centre, not far from Florenc underground station - line C and B. The capacity is 50 rooms in ***category (shower/WC in room) with direct-dial phone, radio , TV - SAT , safe and hair-dryer. Bus and car parking-place within easy reach.
Buffet breakfast is served from 07.00 a.m. to 10.00 a.m.
Lobby bar open daily: 15.00 p.m. – 03.00 a.m.
Meeting room can be used for various events (capacity about 40 persons).
HOTEL U VĚŽE ***
Nupaky 149 251 01 Prague vychod
The hotel was built in 1999 and is situated at the fine spot near to the Pruhonice castle and the beautifull botanical garden/under the protection of UNESCO/ just 20 minutes from the centre of Prague.In 2005 we build a new part of the hotel with next kapacity and big congress hall
The hotel provides 105 beds in single, double, triple rooms and private apartment.each rooms have own facilities- shower and WC,satellite TV, direct –dial telephone and minibars.Guests who expect exlusive accomodation are offered apartment with whirlpool and sauna.
All rooms have the same standard of comfort.
All rooms offer guests enough calm for quality rest and relaxation.
Each room has own facilities – shower and WC, satellite TV, direct dial telephone and minibar.
Guests can choose also exclusive apartment which has two bathrooms, whirlpool and sauna.
One of the rooms is for handicap.
The reception desk is available for 24 hours a day. At the reception there you can buy drinks, hygienic goods or souvenirs or order some of the offered sightseeing tours, excursion, transpotration etc.
Rich buffet breakfasts are serverd in lovely restaurant. The restaurant is also at your convenience during day and evening time and offers excellent home –style and international cuisine.
Hotel provides for our clients business activities
- suitable and convertible rooms for conferences, courses, presentation sessions and business negotiations
- technical equipment in conference rooms
- network INTERNET is available
- restaurant services, banquets, routs – sporting activities, culture events and transport are provided
Our conference facilities offer high-quality infrastructure for both small business meetings and large conference and include the following:
V.I.P. club is suitable for various private or business events. The capacity is 30 seats.
Conference room I.- theatre events – 70 seats
Conference room II. theatre events – 90 seats
Congress hall theatre events 200 seats
SPORTHOTEL OAZA***
Praha 4, Jeremenkova 106,
Sporthotel Oáza - Hotel is situated in noiseless spot in Prague 4 and it is part of tennis recreation area with 9 outdoors and 3 indoors courts. There are 27 double rooms and 1 suite is prepered for our clients. Each of them are equiped with bath, WC, cable TV, direct telephone and balcony. Reception, Resevations , Taxi, Airport transfers , Curency exchange, Sightseeing tour of Prague.
Sport activities
Sporthotel Oáza - Hotel is situated in nouseless spot in Prague 4 and it is part of tennis recreation area with 9 outdoors and 3 indoors courts.
HOTEL ARISTON ***
Prague 3, Seifertova 65
Cosy hotel with a family atmosphere and attractive location is within a walking distance from the historical and business centre of Prague. The Main Railway Station is just 5 minutes from the hotel and in front of the hotel there is also a tram stop connection to the city centre.
The hotel built in the beginning of the last century has been recently renovated and offers accommodation in 62 standard rooms. All rooms are with private facilities, satellite TV, telephone, safe, coffee and tea making facilities, bathrooms with shower and hairdryer. The hotel also offers rooms for non-smokers and disabled guests. For the most demanding travellers comfortable rooms with minibar and marble bathroom are available.
Internet in the lobby
Lobby bar and old style multifunctional ballroom with the seating for up to 150 people offers excellent possibilities for various events.
HOTEL CARLTON
Prague 3, Táboritská 18
The thoroughly rebuilt stylish hotel offering an excellent quality of services is situated in a picturesque area in the centre of the city.
All 49 tastefully decorated comfortable rooms are well equipped with air-conditioning, satellite TV, data port, phone, minibar, safe, tea and coffee making facilities. There is a hairdryer and marble sink in the top range bathrooms. Rooms for disabled guests and non-smokers available.
The hotel features a charming restaurant in the vaulted cellar from the last century where buffet breakfast is served. The restaurant with separate saloons offers excellent possibilities for conferences, meetings or banquets. For hotel guests private parking is available in the garage.
HOTEL MARKETA
Prague 6, Na Petynce 45
Completely refurbished cozy hotel with a warm and family atmosphere is located in the residential area near Prague Castle and the historical centre. Hotel provides comfortable accommodation in 26 cozy and quiet rooms. All of them are with facilities, satellite TV, telephone, tea and coffee making facilities. Bathrooms with hairdryer. Internet available in the lobby.
Private parking within the premises.
HOTEL OLGA
Prague 7, Janovskeho 50
The Hotel Olga is situated in the quiet neighbourhood of Prague Centre-City. Its capacity is 68 beds. (Single and double rooms with possibility to add extra beds. The rooms are equipped with sanitary installations and direct telephone connection, TV with satelite). The restaurant famous for its outstanding cuisine, the parlour for business negotiations or occasional banquets are ready at guests' disposal.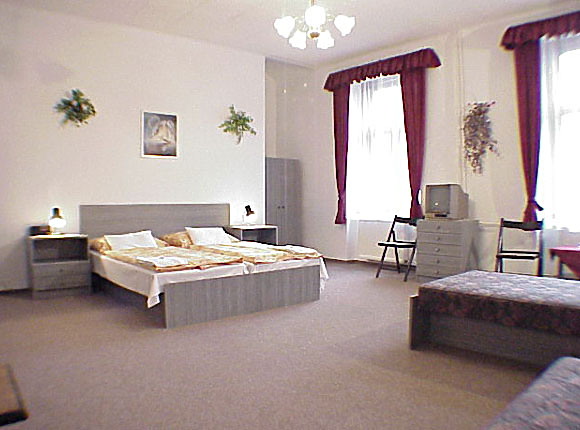 HOTEL JASMIN ***
Prague , Sklonena 515
Hotel Jasmin is a charming Prague hotel located just 15 minutes from the centre of the city in a quite leafy suburb – ideal for those who want the best of a central location with but a step away from city life!
Hotel Jasmin is well connected with the centre of the cit by a selection of public transport services making this Prague hotel an ideal accommodation choice for either business or leisure travellers!
Accommodation is provided in 75 well appointed guestrooms in Hotel Jasmin and a selection of excellent hotel amenities such as in house dining, conference and concierge facilities await guests staying in Hotel Jasmin.
HOTEL TOSCA ***
Prague 2, Blanicka 10
Prague's Old Town is easily accessible either on foot or by public transport- just atke the train from metro station "A". You can also take the trams from stops near the hotel - maps. Wenceslas Square is only a ten minute walk from the hotel. The hotel staff speak Czech, English, German, Russian and Italian and are happy to provide you with the full range of services Hotel TOSCA offers.
Hotel TOSCA is a modern hotel with internet WIFI access, non-smoking rooms, disabled access, and air conditioning. We also have a safe for valuable items. We provide 24 hour reception services, including ticket and sightseeing trip bookings, car rentals and a secure garage for your peace of mind.


HOTEL DALIMIL ***
Prague 3, Prokopovo Square 2
The Dalimil Hotel is a modern 3 star residence housed within a 19th Century building, located in Prague within a peaceful district known as Zizkov. The Dalimil Hotel enjoys a great location just minutes from the city centre and close to Prague central train station offering easy access to major tourist attractions and business districts.
This great location makes The Dalimil Hotel an ideal accommodation choice for either business or leisure travellers!
Accommodation is provided within 126 comfortable rooms over 4 floors in The Dalimil Hotel. The Dalimil Hotel offers a selection of hotel services and facilities to complete the experience of staying in this quality hotel Prague!
HOTEL MELANTRICH ***
Prague 1, Melantrichova 5
Hotel Melantrich is a great 3 star hotel in the centre of the city of Prague.
This Prague hotel couldn't be better located, on the main tourist area (called 'golden Tourist way') between some of the best known places, the Wenceslas Square and the Old Town Square.
Hotel Melantrich has 24 rooms available offering a comfortable and nice atmosphere in an unbeatable location, excellent as a base from which to explore the city of Prague.
Guests can have buffet breakfast and receive all the necessary tourist information from the kind staff at Hotel Melantrich.


HOTEL HARMONY ***
Prague 1, Na Porici 31
Hotel Harmony is located in the very heart of Prague, just a few minutes walk from the central Wenceslas Square, the Old Town Square, the Powder Tower and the famous Royal Path.
Hotel Harmony offers accommodation in cosy rooms with en-suite bathroom with toilette, shower and hair-dryer, telephone with direct outside access and a colour TV with satellite channels, mini-bar.
The Hotel offers 7 rooms for disabled guests. Room prices include an opulent buffet-style breakfast.
The hotel offers 60 rooms of the following types:
5 single rooms
49 double rooms
6 suites
optional extra bed
HOTEL JELENI DVUR ***
Prague, Jelení 199
Guests will be welcome by a cozy family atmosphere, ideal for a quiet romantic break.
The Hotel Jeleni Dvur boasts 30 well appointed rooms including doubles and singles. Some of the rooms offer beautiful views of the historical part of Prague.
At the Hotel Jeleni Dvur, guests can have a delicious breakfast every morning.
HOTEL U VLADARE ***
Prague 4, Na Dvorcich 144/9
Hotel VLADAR is a business and Art Nouveau hotel, which is situated in calm and comfortable setting of the old Krč, 3 minutes from the motorway Prague - Brno, 6 minutes from the underground, 12 minutes from centre by a car.
Rooms are untypical, over standard with their equipment, the hotel correspond to the international denomination of four stars. The television with satellite receiving ( 10 channels), security safes for magnetic card fixed in rooms, minibars, onfloor-assistance, automatic phone connection directly from the room and proper car-park are
self-evident.

The special offer is the breakfast in bed. The restaurant is, gastronomicly, situated on the specialities of old-prague cuisine and venison, but there´s large choice of fish and international specialities too. You can have a taste of snails, frog thighs or lamb fillet.
Our slogan is: "First-rate services and satisfied guests".
· luxory interior
· telephone
· breakfast on room
· minibar
· room service
· satelit TV (10 channels)
· safe case
· garage
· parking
HOTEL PENSION MERLIN ***
Prague 2, Gorazdova 22
Guest House Merlin is located in the center of the city Prague on the banks of river Vltava near subway station "Karlovo naměstí" (line B) All historical buildings and monuments are not far away. Charles Bridge, The National Theatre and Old Town Square are 15 minutes walk from our guest house. If you want to visit Prague Castle you can get there by tram (it takes 15 minutes) and to Venceslas Square you can reach by subway (it is 2 stops).
Merlin is furnished decently and gracious in home-like style. For each room is bathroom available.
Rooms in higher levels are recommended for younger customers, because we do not have elevator, but on the other side you will be rewarded by wonderful view to Prague Castle and Hradcany. For small groups we recommend 2 rooms (4 beds in room) with joint bathroom. Rooms are quite large (35 m2) and cheaper for groups.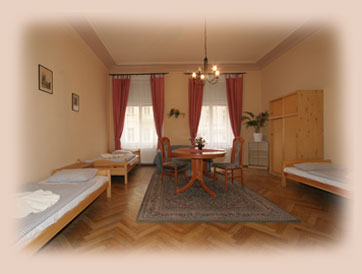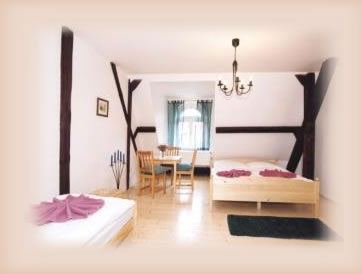 HOTEL IBIS ***
Prague 8, Saldova 54
The Ibis Praha Karlin hotel is located close to the centre of Prague, the town centre can be reached in about 10 minutes by underground, easy access to public transport.
226 comfortable air-conditioned rooms with bath or shower/WC, direct-dial phone, wake-up service, colour TV (satellite), radio and safe are at your disposal. Book one of our airconditioned rooms and benefit from the hotel facilities on offer, a restaurant "La Table" with national and international cuisine, a bar "Le Bar" open until 01:00 a.m. serving light meals and snacks 24 hours and undercover pay parking with 40 places, making it ideal for weekend stays.
Business guests will appreciate the WiFi Internet access whilst 6 meeting rooms of different sizes up to 80 people are also available for hosting seminars and conferences.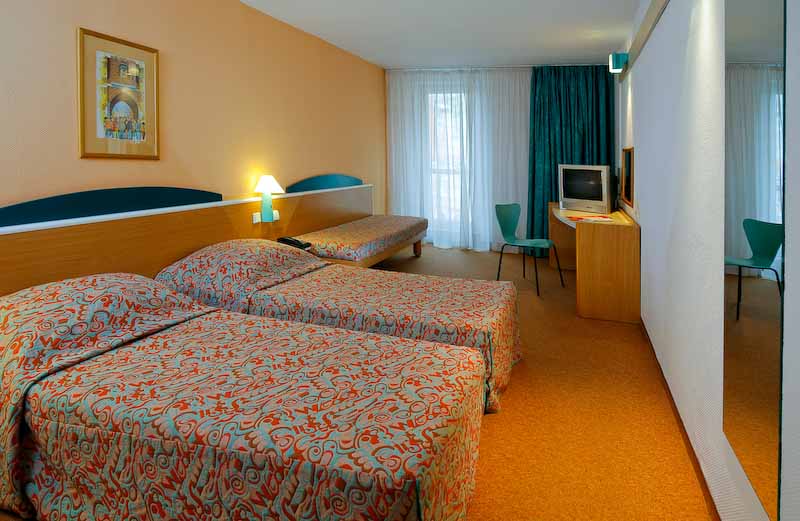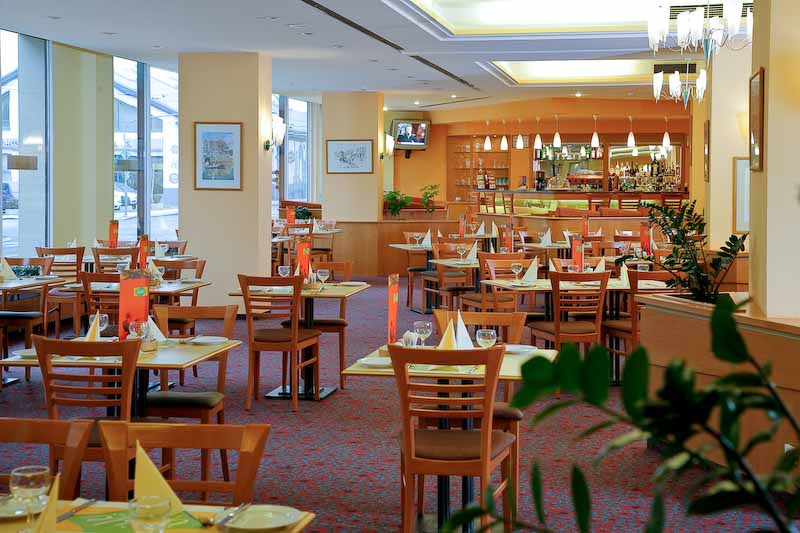 Hotel IMOS*** Garni
Prague 9, Za tratí 686
IMOS recently new built 3 star hotel has been created to comply with modern travelling whether for bussines or pleasure..
It is situated in the northern suburb of Prague, near the motorway D8 Prague-Teplice-Dresden, 10 minutes drive to the centre of Prague.
There are 33 double rooms and 6 Apartmanes in the hotel - completly 89 beds. Every guest room is designed as comfortable as possible, with shower, WC, TV and telephone. In the hotel hall is internet. We can offer one room for 30 people to rent for meetings etc. Parking is in the hotel ground free for guests.
Neighbourhood.
In the neighbourhood are the biggest shopping centres TESCO and GLOBUS. It is only 1 km to the exhibition ground Vystaviste Letnany and 4 km to the famous O2 ARENA where The World Championship in Ice Hockey in 2004 was held. The guests can use several fittnes centres, swimming pool, squash centre, bowling centre and Palace Cinemas Multiplex Letnany. All these activities are located about 1 km from hotel IMOS.